Centrax® Radon Mitigation Kit Instructions
Radon Fan Instructions
SUNCOURT® INSTALLATION INSTRUCTIONS RADON FAN MODEL: RDKO4, RDK04-3, RDN04 & RDN04-3
READ THESE INSTRUCTIONS BEFORE PLANNING YOUR INSTALLATION
PLEASE READ AND SAVE THESE INSTRUCTIONS:
DO NOT CONNECT POWER SUPPLY UNTIL FAN IS COMPLETELY INSTALLED.
CAUTION: BEFORE CARRYING OUT ANY MAINTENANCE OR SERVICING, ENSURE THE UNIT IS DISCONNECTED FROM THE MAIN POWER SUPPLY.
DO NOT USE TO EXHAUST HAZARDOUS OR EXPLOSIVE
MATERIALS AND VAPORS OR DUST.
NEVER EXPOSE THIS FAN TO TEMPERATURES EXCEEDING 140°F (60°C).
WARNING - TO REDUCE THE RISK OF FIRE, ELECTRIC SHOCK, OR INJURY TO PERSONS, OBSERVE THE FOLLOWING:
1. Do not use fan in hazardous environments where the fan electrical system could provide ignition to combustible or flammable materials.
2. Do not use fan to exhaust explosive or corrosive gases.
3. Check voltage at the fan to insure it corresponds with product nameplate.
4. Normal operation of this device may affect the supply of fresh air needed for safe operation of fuel burning equipment. Follow safety standards, codes, and heating equipment manufacturer's procedures guide lines.
5. There are no user serviceable parts located inside the fan unit. Do NOT attempt to open (this will void manufacturer's warranty). Return unit to the factory with original purchase receipt for service after obtaining a Return Goods Authorization (RGA).
6. All wiring must be in accordance with local and national electrical codes. When installed outside, power must be supplied from a GFCI (Ground Fault Circuit Interrupter).
7. Operate unit only in the manner intended. If you have questions, contact the manufacturer.
8. Before servicing or cleaning unit, switch power off at service panel and lock service panel to prevent power from being switched on accidentally. When the service disconnecting means cannot be locked, securely fasten a prominent warning device, such as a tag to the service panel.
9. Installation work and electrical wiring must be done by a qualified person(s) in accordance with all applicable codes and standards, including fire-rated construction.
10. This unit has an unguarded impeller. Do not use in locations where the impeller is readily accessible to people or animals.
FAN SPECIFICATIONS
Electric Motor • External Rotor • Ball Bearing • Class B • Thermally Protected • Conforms To ANSI-UL 705 & CSA 22.2 • ETL Listed • Housing Material FRABS • UV Protected • Flame Rating UL 94V0 • Housing Color White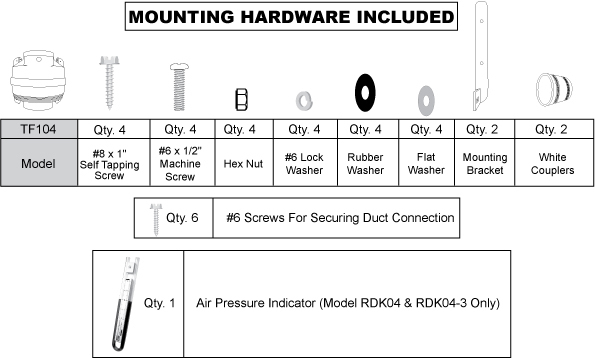 INSTALLATION
Retain original packaging.
The fan can be mounted indoors or outdoors. (It is suggested that EPA recommendations be followed in choosing the fan location.) The fan may be mounted directly to the system piping or fastened to a supporting structure by means of mounting brackets provided.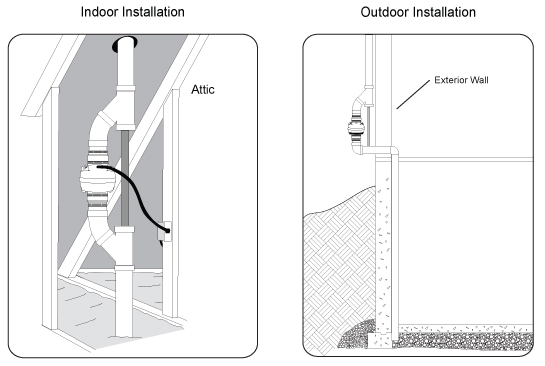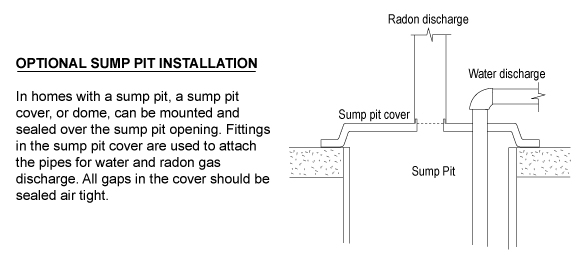 MOUNTING
Mount the fan vertically with the outlet up. Insure the unit is plumb and level. When mounting directly to the system piping ensure that the fan does not contact any building surface to avoid vibration noise. Use the flexible couplers provided to secure the fan to the piping.
MOUNTING BRACKET
The fan may be further secured with the mounting brackets provided.
The flexible couplings will provide means of disconnect for cleaning the impeller and also to isolate vibration.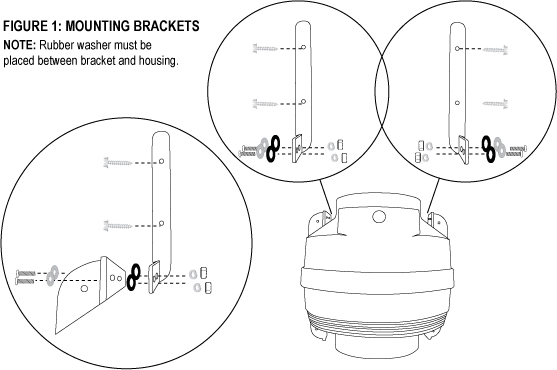 ELECTRICAL WIRING
The fans operate on standard 120VAC 60Hz. All wiring must be performed in accordance with the National Electrical Code and state and local building codes. A qualified electrician should perform all electrical work. Outdoor installations require the use of UL Listed watertight conduit and power supplied from a GFCI (Ground Fault Circuit Interrupter).
ELECTRICAL CONNECTION
Connect wiring with terminal block provided, observing proper connections.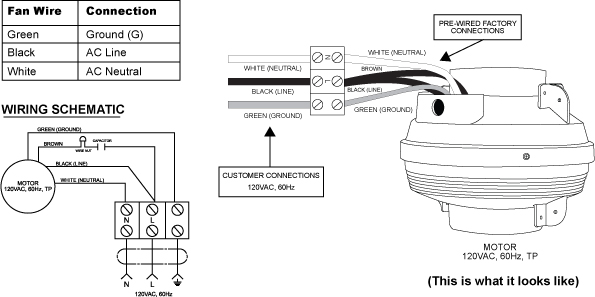 CONDENSATION & DRAINAGE
Condensation can form in the piping of a mitigation system when the air in the piping is chilled below its dew point. This can occur at points where the system piping goes through unheated space such as an attic, garage or outside. The system design must provide a means for water to drain back to a slab hole to remove the condensation. The fan MUST be mounted vertically plumb and level, with the outlet pointing up for proper drainage through the fan. Avoid mounting the fans in any orientation that will allow water to accumulate inside the fan housing. The fans are NOT suitable for underground burial.
A condensate bypass should be installed in the outlet ducting as shown below. This is particularly true in cold climate installations, which require long lengths of outlet ducting or when the outlet ducting is likely to produce large amounts of condensation because of high soil moisture or outlet duct material. Schedule 20 piping and other thin-walled plastic ducting or aluminum downspout piping will normally produce much more condensation than Schedule 40 piping.
The condensation produced in the outlet stack is collected in the Wye fitting and drained through the bypass tube. The bypass tubing may be insulated to prevent freezing.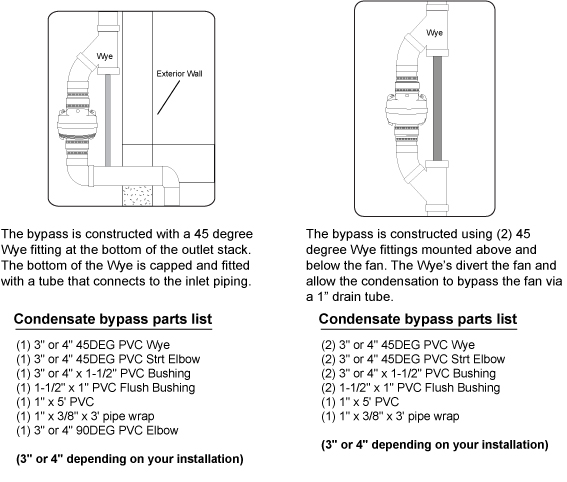 Failure to install a proper condensate collection system voids the product warranty.
MAINTENANCE
Inspect the product at least once every 12 months for excessive dust and dirt build up on the impeller (more often in dusty environments). Clean as necessary. The unit must be disconnected from power during inspection and/or cleaning.
"SYSTEM ON" INDICATOR
Install a "system on" indicator to confirm status. A pressure indicator, manometer, or vacuum alarm is recommended for this purpose. The Suncourt® Air Pressure Indicator is included with models RDK04 and RDK04-3.
SLAB COVERAGE
The Suncourt® Radon Fan provides coverage up to 2000 sq. ft. per slab penetration depending on type of sub slab material. If one slab penetration does not sufficiently mitigate the Radon then additional slab penetration points can be added as required.
Detailed Radon information is available on the EPA's website at: http://www.epa.gov/radon/
FIVE YEAR LIMITED WARRANTY
Subject to the following limitations, Suncourt® Inc. (manufacturer) warrants that the fan will, for 5 (five) years from date of original purchase, remain free from appearance of defects in workmanship or materials. This warranty is subject to the following limitations: (a) manufacturer's liability is limited to the replacement or repair of the unit, as decided by the manufacturer; (b) a defective unit must be returned, prepaid, with proof of purchase, to Suncourt; and (c) this warranty does not apply to defects resulting from the alteration, abuse, accidental damage, unauthorized repair, or misuse of the unit. This warranty is given in lieu of all other warranties, guarantees, and conditions on manufacturer's part, and the manufacturer shall have no tortious or other liability in respect to this fan. There is no implied warranty of merchantability and fitness for a particular purpose.
Suncourt shall not be liable for any direct, indirect, special, incidental or consequential damages arising from, or relating to, the fan or the performance of it. Suncourt's maximum liability shall not exceed the amount of the purchase price of the fan. The sole remedy under this warranty shall be the repair or replacement of the product.
WARRANTY RETURN
Call Suncourt at 1.800.999.3267 for a Return Goods Authorization (RGA) number. Please have date of original purchase available.
Mark the RGA number clearly on the return shipping box. We do not accept returns without a valid RGA number.
Package the unit using the original packaging including the styrofoam inserts to avoid damage in shipping.
SUNCOURT INC.
500 W. SECOND AVENUE
P.O. BOX 40
DURANT, IOWA 52747-0040 1-800-999-FANS (3267)
Copyright 1998-2017 Suncourt Inc. All Rights Reserved
No videos for this product category.